Services Offered
We have decades of experience repairing various beverage equipment used in a variety of restaurant and coffee shops throughout the area. This variety of beverage equipment includes Coffee, Espresso, Soda Fountain, Granita, Juice, water filtration and much more. We cover a 60-mile radius from our headquarters in Vista. This area includes all of San Diego, Orange County, Temecula and Hemet. If you have a restaurant or coffee shop in this 60-mile radius, then we can help you to find the right beverage equipment to fit your needs. We have a whatever it takes approach to get our customers' equipment back up and running.
Once your beverage equipment is put into place, then we also offer the maintenance and repair services to make sure your business doesn't suffer because of down beverage equipment. How can we be sure that you will get the service you need when you need it?
We perform Reactive Services, utilizing real time dispatch technologies. We dispatch our factory trained service technicians 24/7. All of our service vehicles are stocked with common service parts. Our goal is to complete most repairs in the first trip. While some companies may have you waiting days for your espresso and coffee machine repair in San Diego, CA, our team is focused on getting you up and running right away. We provide coffee and espresso repair solutions, so you know exactly what is going on with your beverage machine and how we are going to address it.
We offer Preventative Maintenance we can customize a maintenance program that enables your equipment to operate at peak performance with less cost and down time for emergency repair services. The best way to avoid costly delays due to major repairs is through a regular maintenance schedule based on the overall use of your machine. If your machine is a critical part of your coffee shop or restaurant, then keeping it on a regular schedule is also going to save on the costs to your business over the long run.
We are ready to assist with Installations and Removals. Equipment can be sent directly to our warehouse in Vista. We are ready to install equipment and train your staff.  We can plan and coordinate large scale projects seamlessly. Perhaps you have a coffee or espresso machine that has reached the end of its life. Our team can work with you to get that machine removed and a new one in place while not impacting the overall routine of your business. We can take advantage of your slow periods during your operating hours to make any necessary switches of equipment.
We are ready to help you select and install a Water Treatment System that is specifically designed for your needs, based on water conditions and the application. Our water systems will help keep your equipment running efficiently for years to come. Plus, our water systems can help to optimize the taste of your product, helping you to keep your customers coming back to your restaurant or coffee shop. We look forward to helping you keep your equipment going with little or no down time. Our reputation and quality of service is always a priority over profits!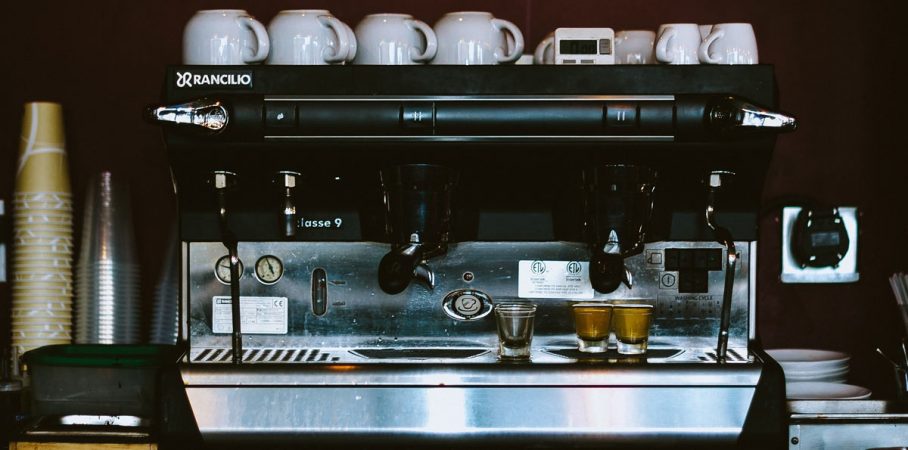 Espresso Machine Maintenance
Your espresso machine is an investment, one that will allow you to enjoy quality coffee and espresso drinks for years to come. However, to keep your machine performing at optimal levels, it is critical that you set a maintenance schedule and then keep to it. Consistency and precision are important parts of a successful coffee program, allowing you to produce the best quality coffee product possible to generate better sales and repeat customers.
The question is whether you should handle the maintenance of your machine on your own or if you should bring in an experienced company to handle this routine for your espresso machine. Before making that decision, ask yourself the following:
Can I afford to have my espresso machine down for days at a time while I go through the maintenance process?
Do I know how to recognize or address any potential problems in your espresso machine?
Do I know who to order the right parts from to make any on the spot repairs, if necessary?
Do I know what cleaners to use as part of a deep cleaning for my espresso machine?
Without the right tools and knowledge in place, you could end up potentially damaging a critical piece of your business by damaging your critical espresso machine. Our team also provides an espresso machine repair, allowing you to get your machine up and running in the shortest time possible. Still, you might be wondering what is involved in a deep maintenance cleaning for your espresso machine.
Part of your maintenance schedule needs to include regular deep cleaning of all the jets and internal tubes. You also want to have all aspects of the machine checked for any potential cracks or signs of wear and tear. An espresso machine uses less energy when left on all the time versus shutting them down at night, because they do not have to warm themselves back up.
With years of experience, our knowledgeable staff can assist you in determining the type of maintenance your machines need, as well as connections to a service team that can provide the necessary maintenance.
Additionally, you need to make sure that you are using quality water and that means putting in a water treatment and filtration system. The tubes, jets, and boiler can easily become clogged by the smallest particles (minerals) that can be found in your tap water. With the right water filtration system in place, you can keep your machine running smoothly for longer.
When you create a scheduled maintenance schedule, then you are limiting the downtime of your machine for potential repairs. Plus, you can catch any issues before they start, giving your machine a longer life. Identifying potential repairs means you can schedule them right away and thus improve the overall functionality of your espresso or coffee and tea brewers.
This process involves checking all major areas of your machine, as well as replacing jets, tubes, or the boiler according to the manufacturer's recommended schedule based on your use. The benefits to your business involve creating a quality product every time, while limiting the chance that your machine will be down for long periods due to an unexpected repair. Plus, if you can identify potential problems early, you can reduce overhead by ordering parts in advance, instead of having them rushed at an additional shipping cost.
You can also save energy, because your machine will be running at its optimum performance. An espresso machine can run up your energy bill if it is running efficiently. When the gaskets and seals on your espresso machine begin to leak, then the machine will start to run on overdrive, which means it is demanding more energy and more water to maintain its operating temperatures. This added load can further stress the seals, electrical, and mechanical parts, thus making the problem even worse.
Deep cleanings are also can prevent the buildup of scale. A quarter inch of scale of build up in your copper pipes and brass fittings can cause a heat loss of about 50%, which can negatively impact the performance of your machine and the quality of the coffee and espresso. Think of how much the taste and consistency of your espressos and coffee mean for your customers. The quality of water and the mineral scale can end up negatively impacting your products, thus potentially driving customers away. Using a regular deep cleaning and maintenance schedule for your coffee and espresso machine is an investment in your products and your repeat customers. If you have not followed a regular maintenance schedule for your coffee or espresso machine, then our team can offer espresso and coffee machine service right in the San Diego area. Get your coffee and espresso machines up and running at their optimal performance by contacting us today!
Get the best from your machine through a routine maintenance plan.
At N.C.B we DO NOT sell coffee or any products that are used in the equipment. Integrity to our customers is paramount. We work for many different distributors who sell products. We are beverage equipment repair specialists NOT product specialists.